2023 Female Sale
Saturday, December 16, 2023 • 1 P.M. MST
Bowman Auction Market • Bowman, ND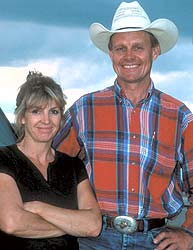 Brooks Chalky Butte Ranch is owned by Steve and April Brooks and daughters Calli, Cassi, and Skeeter, and Steve's brother Ryan, his wife Becky, and their kids Sasha, Alicia, Carter, and Mariah. Our employees are Bruce McLaughlin, Craig McLaughlin, and Todd Walby. Our great grandfather Claude Brooks homesteaded in this township in 1907. Our grandfather Harold Brooks bought a herd of registered cows in 1945 and later started a partnership with his sons Howard and Wayne. Wayne was Steve and Ryan's dad.
Through the years the paperwork was not kept up and this became a commercial herd that was kept intact until 2006 when we dispersed the last of them. In 1975 another registered herd was started. In 1979 we bought the Gabbert herd from Lefor N.D. and split the 240 registered cows with Spruce Hill Angus. This was a reputation herd that had been very successful for many years and really moved our breeding program ahead.
Each generation has added another ranch. In 1983 Steve, Ryan, and Robert, Howard's son, bought the Chalky Butte Ranch. This partnership went until 2002 when it was split and Rob took the Rhame ranch and started Brooks Ranch and Steve and Ryan continued on with the Brooks Chalky Ranch and the original land that Harold Brooks bought in 1928. We are now running 600 registered cows and 180 replacement heifers on 16,000 acres of owned and leased land. We also put up around 1500 acres of hay and farm 3200 acres on which we raise wheat, barley, field peas, oats, corn, safflower and flax. We also put in 100 to 150 embryos in two cooperator herds that are close to us. We try to artificially inseminate every female once and go two cycles on the yearling heifers. All of the yearling sale cattle and replacement heifers are ultrasounded for carcass traits and all of the females are ultrasounded in the fall for pregnancy and fetal sex. We have an annual sale the first Saturday in April each year where we market our bulls and registered yearling heifers. We also sell around 1000 commercial yearling heifers from our bull customers and a few good ranch horses. We also sell some older-aged bred females in the fall private treaty. Some years we also have a few extra embryos for sale.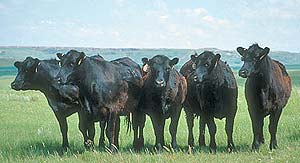 Our goals on breeding cattle are to spread the birth weight and yearling weight as much as we can. We feel if we can control birth weight we can control mature size and eliminate most calving problems. We also watch mature frame score in the bulls we buy semen from and try to stay under 56 to 57 inches. These kind of cattle grow fast and mature early and seem to fit our environment very well. Our cowherd is moderate in frame. We cull for udder quality and disposition at calving time. We try to buy semen from the top proven bulls in the breed that are in the bottom 50% for birth weight EPD and top 25% for yearling weight EPD. We pay close attention to scrotal EPD and carcass traits and want them to be positive for a minimum. In the 1980s and 1990s we collected carcass data on over 100 sires through retained ownership in the steers from our commercial herd. We are using bulls now that are in the top 5% of the Angus breed for $Beef value.
Steve served eight years on the Certified Angus Beef board and was chairman for two years. He also served eight years on the American Angus board including president in 2003. Our family has been in Slope County in southwest North Dakota for five generations. We invite you to come and see our cattle anytime. Look for our sale book online soon.